How did I get into alpacas?
I was first introduced to alpaca fiber in 1993 and fell in love with its soft texture and ease in spinning. After that there was no turning back. Although I kept spinning other fibers, I kept coming back to alpaca.

In 1998, I bought my first alpacas: SaeDe, Flutterby and Lorrita. But I didn't stop there. I then bought French Silk, shown here, and her half sister, Athena. And then the babies started...
It was obvious that agisting was no longer the answer as I wanted to watch them grow and play. I settled here in Illinois and brought my alpacas 'home'. Then there was the trip to Texas to pick up our stud, Rainier. But no sooner had we settled in to our 30 acre parcel in Albany, but I met my husband-to-be.


October of 2001 saw a big blending of his farm and my own and we've enjoyed every minute since then. We've seen more babies born, and more than just the alpacas! We currently own alpacas, llamas, Merino and other brees of sheep, Belgin horses, a Quarter horse, mineature horses, cattle, milk goats, heirloom chickens, ducks, geese, guineas, and even a pig. Of course there are always the cats and dogs as well. We have quite the meagerie on our 165 acre farm!
For answers to your questions or to let me know what you think, contact me:
My address is:
Catherine Gravert
Circle "C" Alpacas
21919 Hillside Road
Fulton, IL 61252

Phone:
815-772-3175

Send an email
ccalpacas@yahoo.com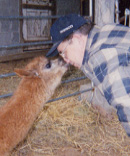 Alpacas...
The kissable investment!